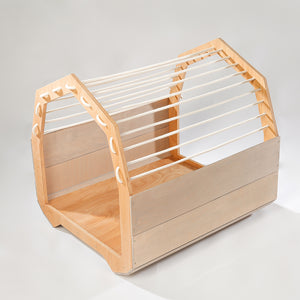 MÖKKI // Pre-order
Sale price Price 37,900.00 HUF Regular price 34,900.00 HUF Unit price / per
Tax included.
(meaning tiny house in finnish)

Mökki is perfect for those dogs, who feel safer in a well-defined bed, but they still can see any movement around. The bed frame lifts the pillow from the cold floor, ensuring the comfort and relaxation of your dog, while the rope roof creates the perfect space.

The frame is made of beech plywood. The side plates are treated with a water-based ash-grey mordant, the front- and back plate are waxed. The natural cotton rope is not treated with any chemicals.
We send it to you in a flatpack, so that you can put it together yourself.

Available in two sizes:
–50 cm x 60 cm x 55 cm
–62 cm x 75 cm x 71cm

Mökki is made in the social workshop of  MAACRAFT  in Miskolc, Hungary, by  young people living with autism.

These products are made-to order and can be shipped within 5-8 business days.
INLAND SHIPPING is available, for shipping outside of Hungary please contact us at 
madzagdog@gmail.com or hello@madzag.dog

Please note that the Pillow and the Pillowcase are sold separately.
You can find them HERE and HERE.