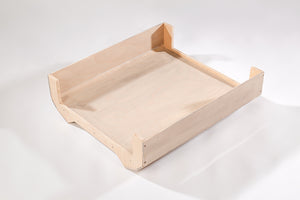 SÄNKY // PRE– ORDER
Sale price Price 32,900.00 HUF Regular price 29,900.00 HUF Unit price / per
Tax included.
(meaning tiny bed in finnish)

Designed for those pups who prefer to have a clear view of all their territory.
The bed frame lifts the pillow from the cold floor, ensuring the comfort and relaxation of your dog.

The frame is made of beech plywood. The side plates are treated with a water-based ash-grey mordant, the front- and back plate are waxed.
We send it to you in a flatpack, so that you can put it together yourself.

Available in two sizes:
–50 cm x 60 cm x22 cm
–62 cm x 75 cm x 22cm

SÄNKY is made in the social workshop of  MAACRAFT  in Miskolc, Hungary, by  young people living with autism.
These products are made-to order and can be shipped within 5-8 business days.
However, due to the Coronavirus shipping can be delayed.


Please note that the pillow and Pillowcase are sold separately. You can find them HERE and HERE.